About Summit Chiropractic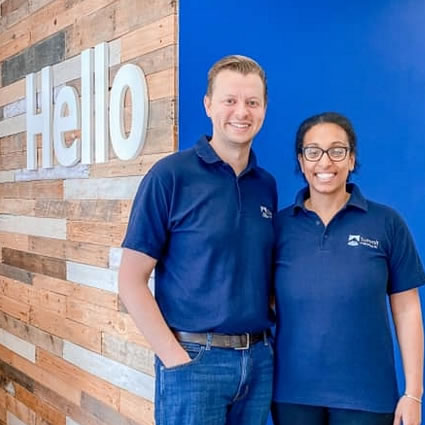 With two locations, Summit Chiropractic is committed to serving their local communities, enabling them to live the healthy lifestyle they deserve. As Summit continues to grow to serve more and more people, the level of care and concern for each and every individual remains the same.
The practice in Watford has been open for over 5 years. Dr James is based there and continues to provide the same quality care you have grown to trust.
The new office, that was taken over early 2021, is located in Hemel Hempstead. Dr Sophie and Dr Rosa are based in this practice, alongside sports massage therapist Stuart.
Our Mission
Our clients know and appreciate our passion for chiropractic, health and them! Our mission is to help our clients reach the peak of their health… To move past the point of "feeling good" to feeling the best they can.
A Hands-on Approach
We are a whole health wellness centre. Try our non-invasive, conservative approach to better health. Come in and let's see if we can help you naturally and holistically.
A number of complaints, issues and problems can be addressed with chiropractic care. Doesn't matter what it is, we'll do our best to help you. You might not get back to 100%, but chiropractic will help you on some level.
MEET THE TEAM
Award Winning Service
We are proud to have received a number of awards for our Chiropractic Services:
2021 Best Chiropractic Clinic in Hertfordshire – SME News UK Enterprise Awards
2020/21 Best Chiropractic Services in London and the South East – Corporate LiveWire Prestige Awards
2021, 2020 and 2019  Top 3 Chiropractors in Watford – Three Best Rated
2020 Chiropractic Clinic of the Year in North West London – GHP Fitness and Nutrition Awards
2019 Finalist in the Customer Service category – Hertfordshire Business Awards
2017 Best Chiropractic Clinic in Watford – The Best of Business of the Year Awards
Our team is passionate about helping you be pain free, functioning at a high level, and enjoying your life.
Working with pregnant mums, we help them to have an easier, more comfortable pregnancy.
Newborns need adjustment to counteract the trauma of birth. Dr James adjusted both of his children the day they were born; they continue to receive regular adjustments.
Parents can experience relief from their daily stress enabling them to play with their children.
Elders can benefit from better mobility and balance to reduce fall risks. Every member of your family deserves to experience chiropractic and what it can do for them.
Your Journey to Wellness Starts Now
Quality care from caring professionals can be life-changing for your family. Find out what thousands of our clients have discovered about chiropractic. Contact us today to get started.
---
About Summit Chiropractic | 01923 236162 | 01442 927427